Solutions
We can be really proud of our diverse abrasive conversion possibilities.
We started with production of classical belts and discs. The portfolio of convertible products expanded after purchasing of Zenna laser and Chiesa puncher in 2016-2017. New products include discs of paper, fabric, film, as well as lamellar discs.
We offer additionally more complex products we produce with laser, such as fiber discs, fladder strips, and superfinishing rollers with wavy edge.
No shape or material is too difficult to cut for our laser!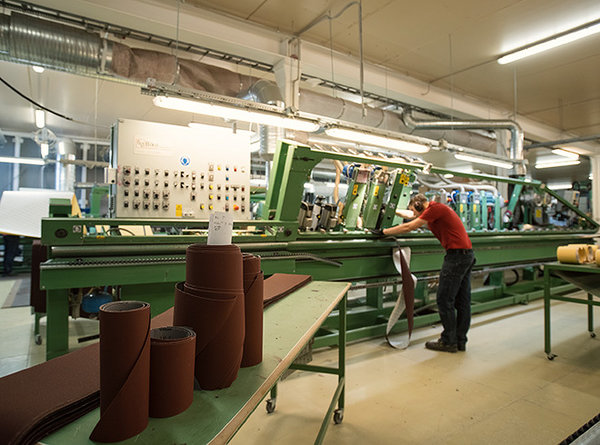 Wood
Belts for wood industry are produced on a set of Biko machines.
Our production capacity offers narrow and wide belts:
| | |
| --- | --- |
| Width: | 50mm - 1600mm |
| Length | 180mm - 10000mm |
| Joint types: | A, B, T |
| Paper materials: | paper A - G, combination, SCM, cloth F, J, X, Y. |
| | |
| --- | --- |
| | "A" joint is used for sanding belts made from paper, joint is overlapping without compensation on the sand side, e.g. without interruption in the coating. It produces a uniform sanding belt thickness, even across the joint, and results in an even sanding finish without chatter marks. |
| | |
| --- | --- |
| | "B" joint is the most common joint for sanding belts with cloth backing. An overlapping joint with compensation on the sand side, meaning that the joint area is free of abrasive material, allowing the cloth to overlap without the joint having to be thicker than the rest of the belt. |
| | |
| --- | --- |
| | "T" joint is typically used for small cloth belts that require strength and flexibility. It is cut through the sanding belt without an overlap and the joint is attached with tape on the backing side. |

Circular cuts and sheets are cut on Chiesa punch that provides automatic counting and stacking of the cuts. We produce all standard dimensions of cuts from all available abrasive materials (paper, cloth, polyester, layers 3-5) - discs, sheets, hand sanding sponges etc.Special sizes, designs and hole patterns are available on request!
GET A QUOTE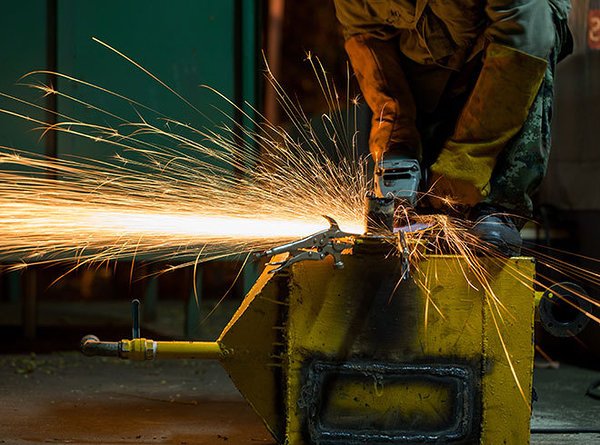 Metal
For metal industry we offer wide selection of belts, discs and special solutions from variety of available materials and in different sizes and backings.
Work is performed by machinery from world leaders, such as Chiesa punch and belt machinery from Biko among others. The flagship of our production is the industrial Zenna laser, unique in Northern Europe. From the tiniest 20 mm fiber discs to hundreds of meters long film-rolls for superfinishing or cloth strips to fladders, from the thinnest film to the thickest vulcanized fiber – nothing is impossible for our laser!
Special sizes, designs and hole patterns are available on request!

Flap Discs
Mini Flap Discs
Quick-change discs

Belts
Velcro Discs
Size
16 mm / 0,6"
Width: 6 mm - 1600 mm
125 / 150 / 180 mm
115 mm / 4 ½ "
25 mm / 1"
Length: 180 mm - 10 000 mm
different hole patterns
38 mm / 1 1/2"
125 mm / 5"
50 mm / 2"
50 mm / 2"
180 mm / 7"
75 mm / 3"
75 mm / 3"
Type
T 27
R style (plastic)
R style (plastic)
Joints A, B, T
T 29
S style (metal or plastic)
S style (metal or plastic)
Backing
Plastic or Glassfiber
cloth, fiber, non-woven, net (Abranet Max, Abralon J3)
velcro
Material
ALOX, Zirconia, Ceramic
ALOX, Silicone carbide, Zirconia, Ceramic, Compact grain (agglomerated)
Paper A - G, combination, SCM, cloth F, J, X, Y, YY, Z
Zirconia
Alox, Silicon carbide, Ceramic, Compact grain (agglomerated)
Grit range
40-240
16-240
16-4000
24-4000
GET A QUOTE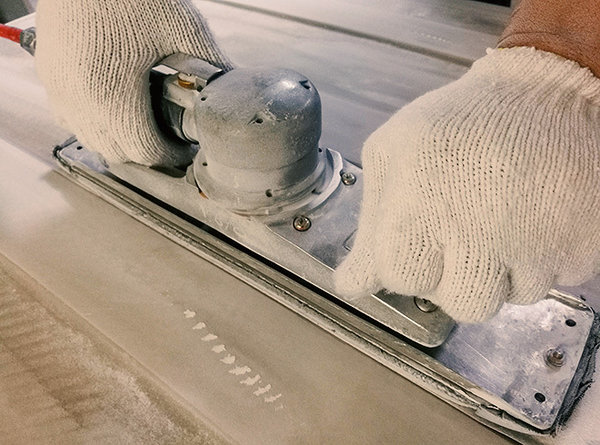 Composite
Our product range covers sanding solutions for the wide range of applications within the composite sector - ultra fine and tailor made abrasives for high-quality surface finish on all composite materials, for example Abralon J3 belts made by Slipson - sanding solution for ultrafine finish!
GET A QUOTE