Slipson Abranet Max
discs are performing as nothing else when it comes to grinding and sanding of aluminium, all other non-ferrous metals and composites!
The speed and stability of removal, keeping the temperature of grinding surface low,
is something that no other abrasive material is able to match. Cooling effect happens due to
Abranet Max polyamide symmetric net structure
, that creates linear airflow between the abrasive and grinded surface.
The
cut is constant and very fast as net does not clog up
. Removed dust is thrown away by net - it
does not lump up, melt and stick back to sanded surface
. Sanding is gentle due to the elasticity and flexibility of the polyamide net.
Main benefits of
Slipson Abranet Max
, when used as flap-disc or quick-change disc come out, when materials with low-melting point, sensitivity to temperature rise or high-clogging properties are being worked with.
Grinding and sanding of aluminium and other soft metals with
Slipson Abranet Max flap discs
is experience that shifts the standards –
non loading, fast cutting, durable and with cooling effect!
Slipson Abranet Max flap disc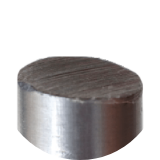 Image of the face of a 1/2" aluminium rod after 30 seconds of grinding using grit 40 Slipson Abranet Max flap disc. Clear indication of non melting and bur free grinding with excellent finish. Work piece barely reached 200 °C.
Ceramic flap disc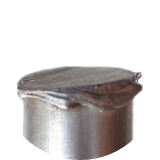 Image of the face of a 1/2" aluminium rod after 30 seconds of grinding using grit 40 ceramic flap disc. Melting clearly visible. Work piece reached temperature of over 400 °C.
VS
Industries:
Automotive
Construction
Metal Fabrication
Technology
Ship Building
Aviation
Energy
Applications:
Aluminium
All other non-ferrous metals
Magnesium
Copper
Zinc
Tin
Lead
Composites
Carbon Fiber
Plastic
Why Slipson Abranet Max flap discs as grinding and sanding solution?
This is why:
Made using Abranet Max by Mirka - the new generation of sanding abrasive
Non-Loading
Fast & stable removal
Blue fired aluminium oxide grain gives a high performance & cut rate
Cooling effect
Extreme long lifetime compared to conventional abrasive
Saves Times & money - one step finishing solution to reduce cost
Practical
Lightweight
Bonding: resin over resin
Coating: closed
GET YOURSELF
Slipson Abranet Max Discs

"Did you know?
We can develop Abranet Max into full converted products portfolio to support your sales to new and existing business sectors!
Send us your wishes:
slipson@tempest.ee




Slipson Abranet Max discs
available as:
Abranet Max Flap discs
Abranet Max Mini flap discs
with quick change backing
Quick Change
Abranet Max discs
Size
115 mm / 4 ½ "
25 mm / 1"

(not available for flaps discs)


38 mm / 1 ½"

(not available for flap discs)



125 mm / 5"
50 mm / 2"
180 mm / 7"
75 mm / 3"
Type
T 27


(available with 22,23 mm and M 14 center holes)

R style (plastic)
T 29


(available with 22,23 mm and M 14 center holes)

S style (metal or plastic)
Grit range
40, 60, 80, 100, 120, 150, 180, 240
Backing
Plastic or Fiberglass
Slipson Abranet Max also available as spindle mounted flap wheels!
World wide
We deliver our products worldwide